For my birthday last summer I went on a 5 day girls trip to Barcelona. Booking a group trip is definitely an experience. I've only ever travelled in a group with family, who have been in charge of everything. Or just myself and another person. With a group, trying to find times when all of us were available to talk about options was difficult… but we succeeded!
This trip I discovered that Barcelona might be my favourite city… so far anyway. The sun beamed down embracing our bodies with warmth at all hours of the day. Even at 3am I wasn't wearing a jacket, can you believe it?
Our last opportunity to bask in the Iberian sun before we were met with the unpredictability of English weather was ruined. The sky decided to reflect our moods about returning back to the UK. With the sun disappearing behind clouds for most of the day, this was the coldest day.
A Joke of Accessible Accommodation
Our hotel showed up as accessible but to be honest it wasn't the best. The lifts in the hotel are so small, I could barely fit in with my large rucksack on the back of my chair. I could only use one lift at a particular angle. But even without my luggage the lift was small.
Although my room met my access needs, mostly. It was spacious with a double bed (which could have been higher for me), the wardrobe was adapted as well as the bathroom which can be seen in the video below.
The biggest joke of the "accessible" hotel was the breakfast hall.
Do you see this? There are steps into the hall. To make up for this, they set up a table outside the main hall for us. Meaning I had to rely on my friends to get me breakfast as I couldn't access it. This was extremely frustrating. I don't know if we always got there too late or what but the range of food was super poor. I wouldn't bother paying for breakfast there again. There is more variety and cheaper food outside of the hotel.
Whilst it was a joke in terms of all of the hotel being accessible, the location (La Rambas) couldn't have been better in my opinion. Right outside of our hotel we had a strip of restaurants, there were even more food places close by, a pharmacy, corner shop and it was a 20 minute walk to the beach.
Barcelona, my favourite city?
You've probably been wondering why Barcelona is currently my favourite city I have travelled to. Well it's all in the accessibility!
The roads were relatively accessible. Better than central London. Some of the roads even had specific signage/lanes for wheelchair users which I thought was really cool and useful. There were quite a few shops that weren't accessible. For me, that just meant less places to break my pocket so I wasn't mad. All but the places I ate at on my birthday and one other were outside so I didn't have to worry about how I'd get in. Just where I'd find the next toilet if I needed it lol.
Now to the true highlight of my trip… the beach! I was honestly so emotional as I rolled down the boardwalk. It took you through the sand all the way to the sea. It was a dream come true. I have never in my life seen an accessible beach and I got teary eyed. There was even an area on the beach for disabled people. In this area, disabled people could relax on the beach chairs and there was equipment to help us get into the sea. I didn't use these facilities but it was incredible just knowing they were there! I will aim not to get tatted before I go to Barcelona again so I can try the equipment out and get in the sea. A location I used to on google maps to direct us to the place where the beach was accessible was this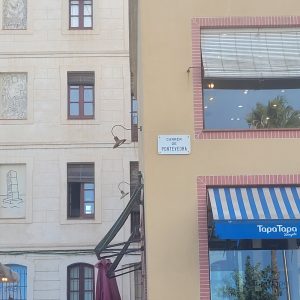 The drinks at the beach bars were super watered down so it's best to get yourself a lovely jug of Sangria at one of the restaurants. I also had shards of plastic in my drink…
R&R vibes
Many of my 2022 trips were about relaxation and this one was no different. We took every day as it came and decided on the spot what to do. Which wasn't much.
Every day we laid on the sand, listening to our music. Switching from watching our eyelids to staring at the waves hitting the sand hearing the words "Sangriaaa, Mojitooo" ringing out by the beach seller's. The one time we took a chance. We were swindled. The sangria turned out to be cranberry juice and apple juice for the mojito I think. I'm sure you shouldn't drink in the sun so served us right ha-ha.
For food we stopped at random places along our walks between the beach and our hotel. My favourite place to eat was along the strip outside the hotel, I never got the name of it but the staff were a good laugh. They were also open for food until 12. I am beginning to learn that I need to prioritise my own hunger because I have too many videos of me saying I am hungry lol. We ate most days after 10pm which is not something I typically do.
Check and Double Check
This trip taught me to double check times and dates of events in foreign countries. On the early hours of my birthday we finished our dinner and drinks at the restaurant by our hotel. Then we got ready for a night out with the Black Queers in Barcelona at Voodoo. Voodoo advertised that the event started at 00:30 on the 13th August. So we took a long and treacherous journey to their venue. My wheelchair was struggling up them hills, my friend had to push at some points. YES, push my electric wheelchair… wild right! Only for us to be told we turned up a whole 24hrs early to the event.
To this day I am still not sure how everyone just KNEW it wasn't the right date. Unless that is just the format in which Spain do things because in England that event would have said 14th August. I felt so shameful for dragging everyone there. We were all exhausted especially since it was late, a journey and the buses were playing up and there were absolutely no wheelchair accessible taxis around so we didn't get back until around 4am. I had a late start to my morning because we got back to the hotel so late. The only positive is that we now knew how to get to the venue.
Birthday Antics
Once I woke up, I got ready and had a nice solo morning. I went shopping for leggings and a blanket for the journey back to England. Normally, I travel with a blanket. I did not this time and the plane ride over to Barcelona was freezing. This experience has honestly made me so scared when flying because I cannot handle the cold. Every time since this trip I have made sure to layer up and remember my blanket.
After I ate brunch, we all met up a bit later and spent the rest of the day on the beach. We went for my birthday meal at a Michelin star restaurant called Ají. I can't lie the food was medi and we felt over dressed. After eating we went and changed for Voodoo which I had been really excited to go too since all their previous posts from past events looked lit. After the palava the night before I was really hoping that this night would be amazing, especially since one of my friends isn't a clubber.
Access wasn't the best, we had to wait a while for someone to get one steep ass ramp to get into the venue and then there were no accessible toilets. Well, that were shown to me anyway. We didn't stay too long because unfortunately the DJs this time weren't doing it for us. Mixing the wrong songs at the wrong times ect. I spoke to a couple of regulars and they said it was usually a lot better so I have hope for my next visit!
At the beach the next day, we ended up speaking to some people who were at the event the night before which was cool. They were doing an extended stay in Barcelona. It inspired me to look into doing something like that to explore more and hopefully improve my Spanish!
Last Night Out
When will I ever learn to charge my wheelchair? We had planned a nice wholesome night out but sadly it was cut short as my chair wasn't fully charged since we had been out most of the day. We got dinner at some boujie restaurant by the beach, the food for me was not worth the money. I must have been so unimpressed I didn't take down the name of it… After we went for a stroll by the beach and watched on as people were brave enough to enter the sea in the dark. The plan was for us to get drinks before shutting down for the night but… my chair was dying. For the first time ever my chair actually died. I am so grateful that I have helpful and strong friends. My friends took turns and pushed me in my chair for the rest of the approximately 15 minute walk from where we were all the way into my room.
I would have liked to explore more of Barcelona than I did but that just leaves so much more for me to discover when I travel back. I don't know how I'm gonna achieve my travel dreams and career goals but I'll make it work somehow 😅
Tchau x
If you got this far thank you so much for reading! Let me know in the comments section what you thought of this blog. Stay tuned for the next couple of trips as I have 2 written and nearly ready to post. In the meantime check out the pics from my BCN blog on my IG.