I sit here writing this blog post with the Canarian sun beaming down on me. The sound of the water crashing against the sides of the pool and beautiful palm trees in front of me. Ah so delightful! My friend and I escaped to Gran Canaria for one of our (trying to be) annual trips around for some much needed R&R.
The weather at Gran Canaria around the end of April didn't sound fabulous. It was forecast to be around 20-24 degrees Celsius. If you know anything about English weather, you know that it can still be a lil chilly.
We went ahead and booked 4 day all-inclusive stay at Maspalomas Tabaiba Princess coinciding with the May Bank Holiday. I was so worried it would be too cold for me and did a panic semi last minute shop for items to fully cover me. Boy was I wrong! I am sun kissed and hiding from the scorching sun the further I get into writing this blog.
Working folk, lemme tell you one thing… UTILISE YOUR BANK HOLIDAYS WISELY. Plan your trips around them to reduce annual leave!

BLD EXPERIENCE KEY TIP
Pre-Holiday
After googling pics of the hotel, I saw that Tabaiba Princess was newly renovated so we paid extra to stay there. I am glad because we found that a lot of families were in Maspalomas.
For transport, I enquired with TUI before booking to see whether I would need to pay extra for transportation to the hotel since my chair doesn't fold. Thankfully I didn't. I only lifted a finger to send over a picture of my blue badge and my wheelchair spec. They then helped me book flight seats and liaised with the hotel to organise an accessible room. It was nice that for once it wasn't me doing all the chasing.
Airport
We flew from LGW, this was my first time flying from there in YEARS. Going through security was smooth sailing. They had a separate area for those that get special assistance and families. For once I wasn't panicked and rushing. Once we got through security we were taken to a nice accessible lounge and given a beeper for when it was time to board the flight. I took a sneaky little peek into the duty-free and let loose.
To be honest the assistance at both LGW and Gran Canaria wasn't great. They both expected my friend to do the heavy lifting and help with my bags. This wasn't very helpful as I purposely got assistance so that my friend didn't have to do anything for me but she is lovely and did what she could.
Landing in Gran Canaria
When I landed in Gran Canaria, we waited an hour for my wheelchair and then an extra 30 mintues because someone lost my airsafe plug. I still need to make a claim for that. So, you can imagine, we were VERY hungry and tired. When we finally got to our hotel which was 30 minutes away, we ran straight to dinner. Which was unfortunately a disappointment…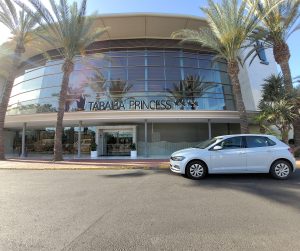 The hotel itself was absolutely beautiful! We had a terrace that I should have made more use of. The hotel was full of European guests from the UK, Germany and France. There were very few Black people that I saw in Gran Canaria. We saw one queer couple which was kinda refreshing as there was so many families and hetero couples.
The staff, mainly those in the food areas, were super friendly and helpful! At the Food Court for breakfast, one of the chefs was going to make me a personalised fruit platter. To his disappointment I didn't like any of the fruit he was offering lol.
Everyone in the Food Court acted like they hadn't eaten for days. So, after our first experience having breakfast there, we decided we would try out the Italian restaurant. It was basically the same food but quieter and slower paced. Personally, breakfast at Il Pecatto and the lunch at Mordisco Family Snack were the best. As we were only there for 4 days, we only had access to dinner at the Food Court. Which I mentioned before was a disappointment, it was super repetitive and not much variety. Vegans there is no point getting all inclusive as you'll have nothing to eat. Had we stayed 5 days or more we would have had access to the Italian and Japanese restaurant. Another issue we had because of the length of our stay was a lack of access to an iron and kettle.
I found accessing food in all the food places difficult. The food was up high which meant I couldn't always see what the dish was or reach properly. This was especially bad in both snack bars. Plus, the tongs to get the food weren't very user friendly for me. This was definitely a downside to the trip. I had to struggle and rely on the support of strangers.
Livin' La Vida Loca
Okay so guys. I know this is supposed to be a review of the accessibility of Gran Canaria. However, 90% of our time was spent sunbathing by the pool (so much so that I got burnt kmt)… Our main priority was to relax in the warmth and that is exactly what we did. We laid on our sun beds, listening to music, and played card games. Our trip was very much the opposite of loca.
Two things that pleasantly surprised me in the hotel were: Sun beds slotted around the pool reserved for disabled people and a disabled toilet by the pool. The SOS in their toilets including the one in my room are useless in an emergency. They were buttons on the wall instead of a cord that sweeps the floor. Like who okayed that?? Another issue was that the wifi did not work at all in our rooms. We had to rely on our data if we wanted to communicate with our f&f back home.
Outside by the pool, I liked that they had wooden slabs where they had fake sand. It meant I was able to move freely. Although getting to the heated pool there was a missing slab. Luckily, the other hotel guests were always super helpful and lifted my chair over the first slab then I was able to roll independently.
On our 1st morning, we saw class of aqua fitness in the heated pool near one of the snack bars. It looked really fun, so we decided to join in the next two days. There wasn't anything to help me get into the pools. I had to cling onto my friend and use her as a crutch to get into the water. This was also my experience when I used the hotel's spa facilities.
Venturing out into the streets of Gran Canaria
We wanted a night out on the town and to see some drag. Reception called us a wheelchair accessible taxi to go the Yumbo Centrum (we waited forever because they failed to let us know that they gave us the reference number and not the driver's license plate, so we ended up turning away our first driver because it didn't add up) . The first LGBT shopping centre in the world apparently. I was very surprised to see how LGBT friendly Maspalomas is! LGBT pride was the week after we left. I was bummed to miss it but I don't think it'll have anything on UK Black Pride.
The drag performance was a shit show. It also wasn't accessible. It was outside so we could see but there was a step up to the seated area which was full. The queens were absolutely awful. They were tired and unenthusiastic. They took a break after a 5-minute performance. During this time, my friend and I took a walk around to see what the centre was all about. We came across an act at Diamonds bar where we sang along to an amazing performance sipping on massive cocktails. Here we were able to get in, but the toilets were small cubicles which a wheelchair could not fit in.
Last Day in Gran Canaria
We decided to go for a little walk around the area and to the beach. The walk to the beach was okay with a couple tricky curbs to navigate. One curb my friend had to help me get my chair up when we were on our way back to the hotel. At the beach there was a small spot where we decided to sit. I had to leave my chair at a small ledge, step down and sit in front of it. Luckily there were not many people in the area we were in so it wasn't an issue.
We didn't have time to explore the food and the beach to its fullest before we had to head back to make sure we were able to meet our transport on time to go to the airport.
We landed back in England at 2am on a Tuesday morning and headed to our respective houses, preparing for work in the next couple of hours.
Whilst it wasn't the most accessible holiday, I really enjoyed my time away with my friend and would give it a 3.8/5. I would definitely go again and recommend it to others that are more mobile or have more support.
Check out my IG to see some pictures of the trip.
Tchau, until next time💛